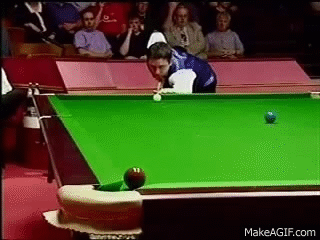 For all your Snooker, Billards, Pool, Russian pyramid, kaisa & Carom needs.
Not Bar Billards, lol.
I was in town today and they were having some sort of snooker match in the Winter Gardens. I didn't get to see any of it because there were spectators in the way but they all seemed to be having fun.
Live feed from Sheffield lost, rest of UK cut off from civilisation!
WhatDoesThisButtonDo? wrote:kaisa

These guy play about as well as I do.
Hang on, maybe they score points for not potting the balls?
Wackopedia wrote:
"Additional points are awarded for caroming the cue ball to object balls (in any order) on the same shot, providing that the initial object ball was pocketed."

John Higgin's children look like Bis circa 1997!


American balls are bigger!

---
Permissions in this forum:
You
cannot
reply to topics in this forum